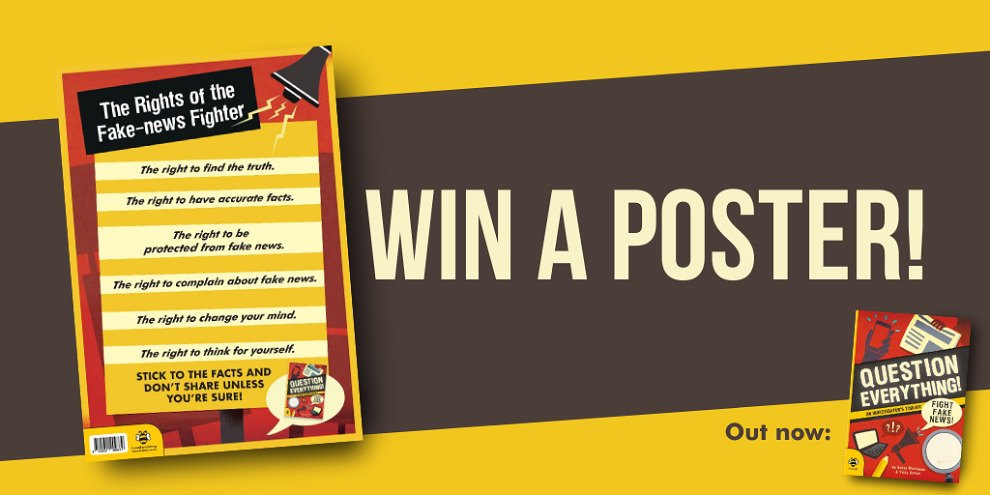 To celebrate the release of QUESTION EVERYTHING!, we've got lots of The Rights of the Fake-news Fighter posters to give away!
Hang it up at home or at school to remember your rights as a fake-news fighter.
About the book: The critical literacy skills in QUESTION EVERYTHING! will help you find your way through the information jungle and tell the difference between misinformation and disinformation. Empower yourself and remember: BE BRAVE, THINK FOR YOURSELF and most importantly QUESTION EVERYTHING!
To enter the giveaway, fill out your details in the form at the bottom of this page.


Terms and conditions apply.

By entering this competition you are signing up to the b small monthly newsletter. (If you are already subscribed to our newsletter you are also welcome to enter.) If you do not wish to be contacted this way, please email books@bsmall.co.uk with 'Competition unsubscribe' in the subject box of the email. Your details are never shared with any third party, unless stated.

You can unsubscribe from either newsletter at any time

.
Giveaway ends 8pm GMT 31/08/2020. Winners will be selected by random draw and announ
ced on PM of 01/09/2020 by email.