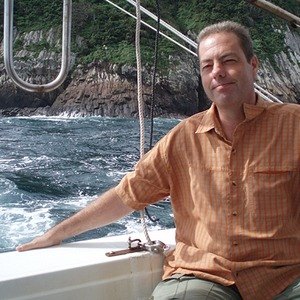 Alex de Wolf
Illustrator
My name is Alex de Wolfe and I illustrated the book I Want My Banana! in the b small I Can Read series.

As a child I was very fond of drawing and I was a keen collector of comic books. My father was an architect. He often took me to museums and exhibitions. Although I found this quite boring most of the time, it must have struck a note somewhere, because I went to the Rietveldacademie (art school), where I studied illustration. I especially loved the classes in the local zoo, drawing animals and children - these stayed my favorite subjects for years to come!

After graduating from art school, I started working as a children's book illustrator. Visiting book fairs in Bologna and Frankfurt, I met foreign editors and started illustrating books for English, German and French publishers. Also some books, originally published in the Netherlands, were translated into foreign languages, even into Japanese and Korean!
In 1995, Cricket publishers in the US invited designs for a comic strip for their children's magazine Ladybug. I was pleased to learn Mop was the winner. Since then more than 100 adventures about sheepdog Mop, the twins Julie and Justin and their parents, friends and granddad have been issued!

I have been lucky enough to have had my work displayed at many different exhibitions, including:
Bologna, International Children's Book Fair, 1992, 1997, 2002
Bratislava International Biennale of Illustration 1995, 1997, 1999, 2001
Dutch Oranges, Stedelijk Museum Amsterdam, Bologna, Jakarta 2001
Dutch Picture Book Exhibition, Japan 2007-2008.
Books by this Illustrator